A team of China and Singapore-based researchers have 3D printed a device that's capable of utilizing heat harnessed from the sun's solar rays to make seawater safe to drink.
Based around a fully-printed ceramic core, the scientists' novel purifier has an integrated solar absorber, thermal insulator and water transporter, enabling it to collect and desalinate without any need for set up. With a conversion efficiency of 98%, the device also meets World Health Organization (WHO) standards, potentially making it ideal for addressing global water shortages in a sustainable and energy-efficient way.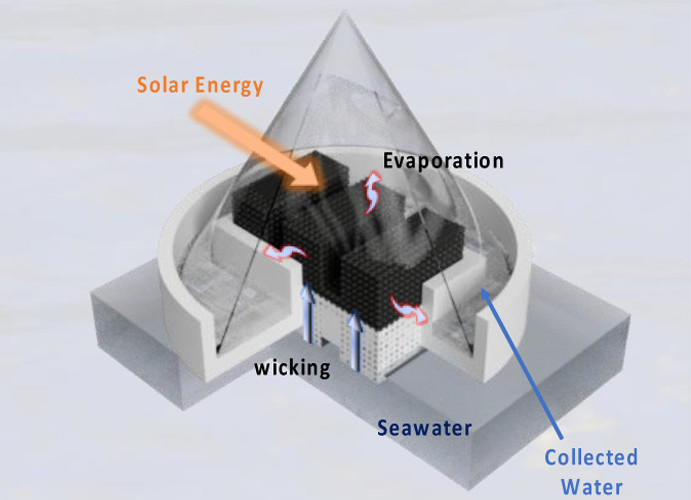 Tackling drought via desalination
As the global population continues to rise, and climate change begins to pose new challenges, access to safe drinking water is becoming increasingly scarce in poorer regions of the world. The earth's oceans, meanwhile, make up over 70% of the planet's surface, but only 2.5% of this is fresh enough to drink, making seawater purification technology a potential solution to tackling global water shortages.
Although a range of reverse osmosis, distillation and ion exchange-based desalination devices are currently available, their high cost and energy consumption often make them inaccessible to the developing world. In order to bring water purification to the people, smaller, distributed and energy-efficient technologies are therefore vital, thus scientists are increasingly prototyping solar-powered devices as a sustainable alternative.
However, while many of these initial designs have proven the feasibility of using sunlight to purify seawater, they're often mass-produced with limited control over their structure, lending them poor thermal efficiency. To enable a higher rate of solar-to-vapor energy conversion, the researchers have now adopted 3D printing as a means of producing a more heat-efficient device, that's capable of evaporating chemicals at a more rapid pace.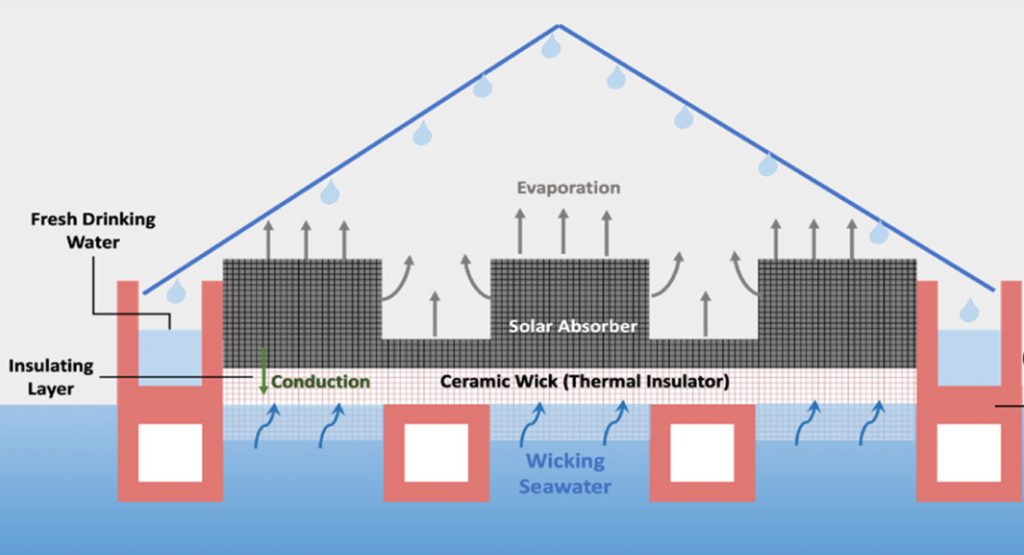 Ceramic-based solar absorption
Leveraging robocasting 3D printing, the scientists were able to produce a multifunctional porous ceramic mesh-based solar absorber. Thanks to the material's inherent insulative properties, the resulting part proved capable of acting as the device's water transporter, insulator and overall base, on which a graphene absorber could be mounted for collecting solar energy.
By precisely tuning their complex ceramic element, the researchers were also able to provide it with integrated microchannels, allowing it to direct water around the device and maintain its overall rate of steam generation. As a result, the team's fully-enclosed device ultimately demonstrated the ability to focus solar heat onto its absorber without thermal dissipation, and achieve a rapid cycle of self-sustained solar evaporation.
Interestingly, during initial testing, the scientists found that they could further optimize their device's performance, by increasing the mesh spacing of its absorber to increase water transfer speeds. Additionally, by positioning the desalinator's absorber directly on top of the porous base without allowing it to make contact with its water reservoir, the team were able to reduce any heat loss and maintain a high vapor generation rate.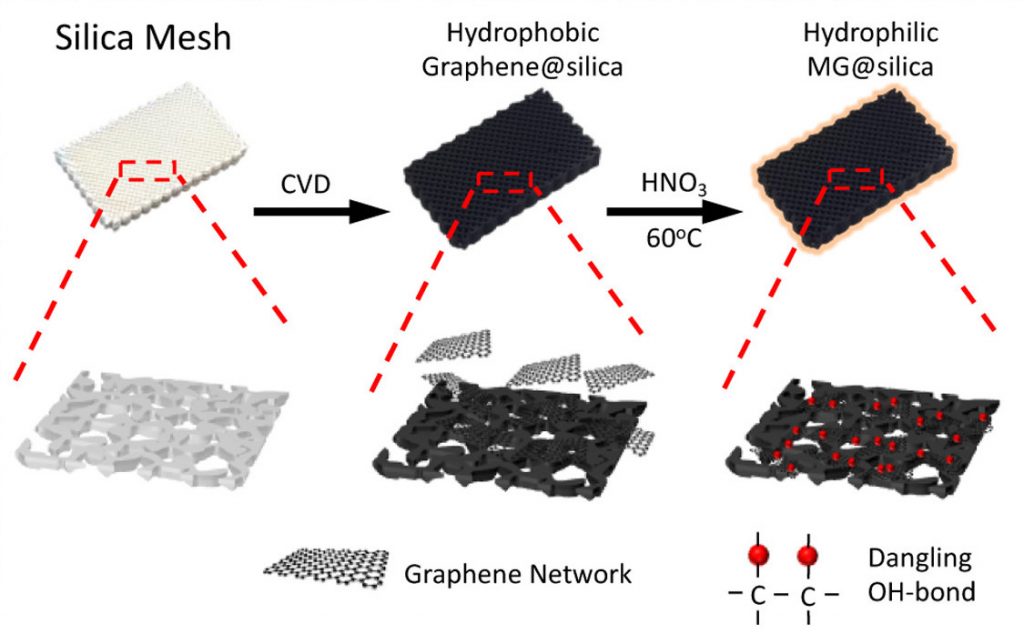 During later outdoor experiments, the researchers' device generated fresh water at a rate of 0.5 liters per hour, while removing sodium, magnesium and potassium in sufficient concentrations to meet WHO standards. Compared to cotton-based water absorbers, the scientists also found that their ceramic-graphene solution evaporated minerals more than twice as quickly, at a solar-to-vapor efficiency of up to 98%. 
Ultimately, given the speed and ion-rejection efficacy of their device, the team concluded their overall approach to be a success, and with further development of its evaporator design, they believe that the technology could "prove useful" in enhancing the performance of commercial solar steam generators in future. 
"Water collected [during testing] met drinking water standards in terms of chemical impurities,"  concluded the scientists in their paper. "With attributes such as robustness, durability, non-toxicity, and anti-fouling, the concept of an efficient 3D printed ceramic solar desalination device, can open the door to more sustainable and greener clean water production."
Water purification and 3D printing 
Given the design flexibility and low production costs associated with 3D printing, the technology is increasingly being used to develop innovative new ways of purifying drinking water. Just last month, University at Buffalo scientists developed a 3D printed water-purifying graphene aerogel that could be scaled-up for use at large wastewater treatment plants. 
In a similar vein, the University of Cambridge spin-out Blue Tap has 3D printed a chlorine doser, which could be fitted to the piped water systems in developing countries to make their water safe to drink. Using 3D printing, the social enterprise was able to simplify the design of its novel purification device, making it easier to install for those in water-deprived areas. 
On a more industrial level, GE Research has been awarded a $14.3 million DARPA contract to develop a novel 3D printed device that's capable of producing water from thin air. Working as part of a four-year project, the company ultimately aims to create a compact, portable device that yields enough water to supply 150 troops on a daily basis. 
The researchers' findings are detailed in their paper titled "Fabrication of 3D-Printed Ceramic Structures for Portable Solar Desalination Devices." The research was co-authored by Win Jonhson, Xi Xu, Danwei Zhang, Wei Ting Chua, Yong Hao Tan, Ximeng Liu, Cao Guan, Xuan Hao Tan, Yuemeng Li, Tun Seng Herng, James Cho-Hong Goh, John Wang, Hui He, and Jun Ding. 
The desalination study was conducted collaboratively across Shanghai Jiao Tong University, National University of Singapore and Northwestern Polytechnical University.