German 3D printer manufacturer SLM Solutions has worked with aviation specialist Safran Landing Systems to 3D print a novel business jet landing gear component.
In what's believed to be the first project of its kind, Safran has deployed SLM Solutions' Selective Laser Melting (SLM) technology to fabricate a large-format nose piece, that's 15% lighter than conventional forging allows. By adopting SLM, Safran was also able to expedite the part's qualification process, rapidly testing different prototype iterations and identifying its optimal design within a matter of days.
"Additive manufacturing contributes to save time in the qualification and certification phases by rapidly providing the parts for testing," explained Gerhard Bierleutgeb, EVP of Global Services and Solutions at SLM Solutions. "We were able to produce the main fitting in a few days on the SLM 800 versus a few months with the forging process."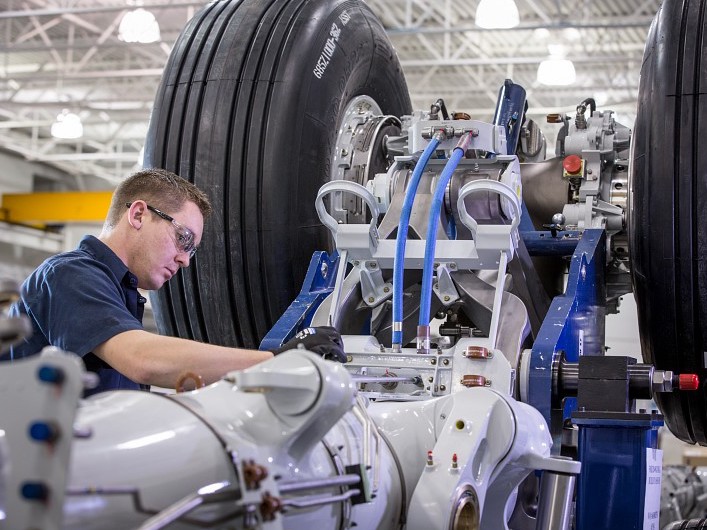 Safran's 3D printed nose job
From the project's outset, Safran Landing Systems and SLM Solutions aimed to demonstrate the feasibility of using SLM 3D printing for creating main aircraft fittings. The SLM 800 3D printer was chosen for the task, in particular, due to its vertically-extended build envelope which makes it uniquely well-suited to producing components at scale.
In order to take full advantage of this switch to metal 3D printing, the standard part was completely redesigned, resulting in a total weight reduction of around 15%. Due to the stringent regulation surrounding aerospace parts, and the strength the landing gear would require to handle the aircraft's load, it was also produced using a resilient titanium alloy.
Once printed, the nose piece measured 455 x 295 x 805 mm, and featured excellent mechanical properties such as high durability, and a natural resistance to corrosion without requiring surface treatment. The SLM 800, meanwhile, proved to be reliable throughout, providing engineers with the ability to rapidly modify, print and test parts, while effectively minimizing the equipment's R&D time.
According to Thierry Berenger, Additive Manufacturing Project Leader at Safran Landing Systems, SLM Solutions' system showed that it was up to the task at every stage of the program. "We chose SLM Solutions as a partner because of their expertise and the SLM 800 machine, which exactly meets our requirements in terms of machine size and reliability."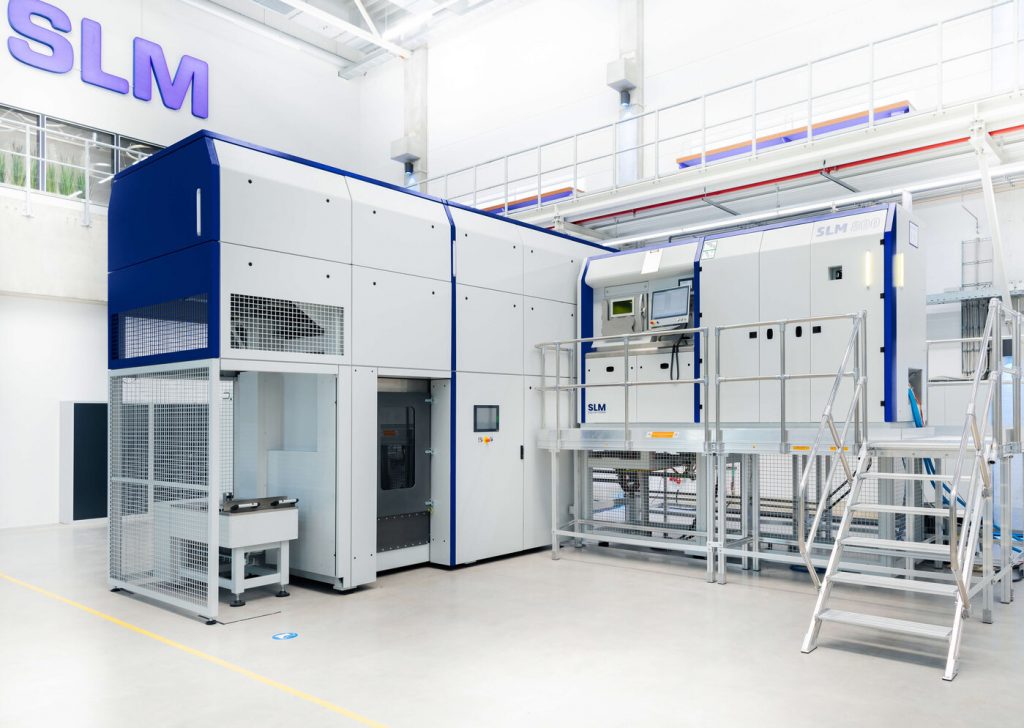 SLM's metal printing expertise
SLM Solutions specializes in developing machines that are powered by its proprietary SLM technology, in which a high-powered laser selectively melts alloy powders layer-by-layer into complex parts. Currently, the company's system portfolio includes the SLM 125, SLM 280, SLM 500, and SLM 800 3D printers, as well as its recently-released NXG XII 600. 
With its latest NXG XII 600 machine, SLM Solutions has specifically targeted larger-format and higher throughput applications. The machine features 12 overlapping 1 kW lasers which can be operated simultaneously, and a build envelope of 600 x 600 x 600mm, enabling it to produce large volumes of end-use parts with layer thicknesses of up to 120 µm. 
While the NXG XII 600 has recently found significant automotive applications, five systems have also been purchased by an unnamed European OEM, that potentially operates in the aerospace sector. Given that SLM Solutions also worked with Honeywell last year to develop a parameter set for 3D printing aluminum F357, it's clear that the firm sees a bright future for its technology when it comes to the aviation industry. 
Flight-ready 3D printed parts 
Recent advances in 3D printing technology have led to the development of an increased number of flight-ready parts for commercial, prototype and military aircraft. Boom Supersonic's XB-1 prototype, for instance, is fitted with 21 flight-critical VELO3D additive manufactured parts, that are built to cope with pressures at supersonic speeds. 
Premium AEROTEC, meanwhile, has worked with GE Additive to 3D print aerospace parts for several years now, and the companies recently announced a series production milestone. Leveraging GE Additive's Concept Laser M2 3D printer, the firms managed to produce larger titanium parts than were previously possible, and at a 30% faster pace. 
With regards to military applications, Saab has successfully trialled 3D printing for conducting rapid fighter jet repairs. Just last month, the defense manufacturer managed to fit an additive manufactured polymeric hatch to the outside of one of its Gripen aircraft, and conduct a test flight over its facility in Linköping, Sweden, without incident.