Scientists from the University of Southern California and Swiss Federal Institute of Technology (EPFL) have developed a reusable support that could dramatically reduce the amount of material wasted during FDM 3D printing.
Designed to support builds while using nozzle or extrusion-based machines, the team's device features dynamically-controlled metal pins, that move to match the printhead's level as every layer is printed. Once each part's finished, the support can then be removed, reset and reused on the next job, yielding reliable and robust structures while using around 35% less material.
Improving support mechanisms
It's well-known within the industry, that when 3D printing complex parts with overhanging structures, supports need to be incorporated into them, in order to prevent failures. While this can be achieved by adding extra material to prop up the part when using FDM and SLA systems, this often causes longer lead times, in addition to considerable waste as the support is usually thrown away after use.
Using commercial software from the likes of MakerBot and Simplify3D, it's possible to create custom support designs, often with vertical wall-like structures that connect the areas most at risk of breaking-off. However, such approaches are often geared towards reliability over print speed, and even with considerable tweaking, producing parts with cantilever features remains a material-intensive task.
In the past, Autodesk has also experimented with a unique type of branching support, that only lifts certain parts of the overhang area, but this too has proved to be flawed. The firm's innovative tree-like design incorporated weight-optimized slanted pillars but they also featured reduced bonding, making them more prone to instability and ultimately print failures.
Having concluded that print supports, however they're designed, lead to wasted material, the researchers therefore set out to design a novel reusable device composed of a flexible pin array, that's specifically optimized for use with low-cost FDM machines.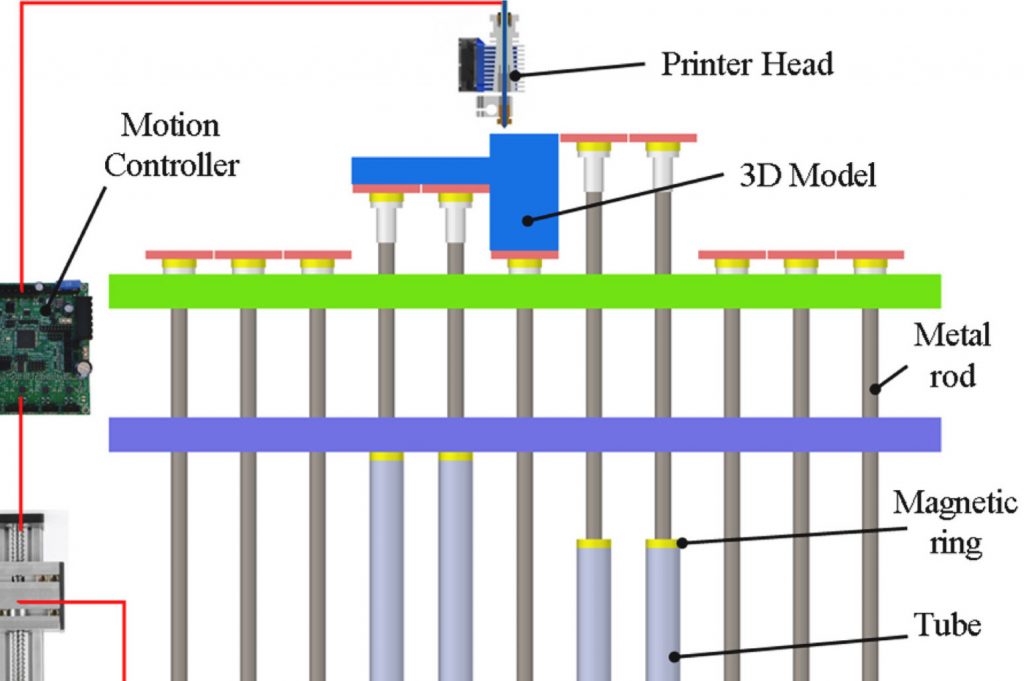 An eco-friendly FDM support 
The researchers' novel design is characterized by a set of metal pins inside a three-layer sheet metal structure. While the first two layers are fitted to the device's outer frame, the third is connected to a 3D printer-controlled motorized stage, that moves up to the same layer thickness as the extrusion head after each layer is printed. 
Once each pin is at the correct height, they're then locked into place using a magnetic disc and ring combination, preventing them from slipping and spoiling the print altogether. In order to maximize the effectiveness of their support, the scientists developed a custom CAD model and prototype FDM system (based on the Orion Delta), before conducting a series of ABS and PLA test prints. 
When producing parts with overhangs of 15 mm, 30 mm, 45 mm, and 60 mm, no additional supports were needed, while larger overhangs required significantly less reinforcement than usual. Compared to conventional FDM 3D printed components, the prototypes also proved to be far more robust, while using an average of 35% less material and achieving reduced part lead times of around 38%. 
In future, the scientists believe that their device could be deployed to support prints within SLA, SLM and DIW 3D printing as well. To accomplish this, the team are already working on prospective upgrades, including an enclosed chamber which could allow for better temperature control and reduced ABS warping. 
Soluble support solutions 
Support materials continue to be a vital element when it comes to FDM 3D printing stable structures, but removing them during post-processing can be a time and cost-intensive task. In an attempt to make things easier and quicker for users, companies such as Infinite Material Solutions have therefore launched water-soluble support filaments. 
Designed to be co-extruded with high-temperature polymers, the company's AquaSys 180 material enables greater design freedom, by removing the need to accommodate support removal during the 3D modelling phase. Similarly, EnvisionTEC has previously worked with Sartomer to develop a water-soluble resin for use with its proprietary CDLM 3D printing platform. 
Known as 'E-Aquasol,' the material was created using Sartomer's N3xtDimension UV-curable resin technology, and possesses water-soluble properties that allow industrial adopters to avoid the use of aggressive solvents during support removal. 
The researchers' findings are detailed in their paper titled "Reusable support for additive manufacturing," which was co-authored by Yang Xu, Ziqi Wang, Siyu Gong and Yong Chen.