A special edition of German automotive firm BMW's first all-electric MINI, the 'Electric,' is set to become the FIA Formula E World Championship's new safety car.
Dubbed the 'Pacesetter,' the one-off vehicle features vibrantly-colored 3D printed spats, spoilers and a roof-mounted rear wing, providing it with the aero performance needed to lead a pack of 280 km/h electric-powered race cars. The Pacesetter, which also incorporates additive manufactured interior elements, is scheduled to make its debut at the Rome Grand Prix this weekend.
"This extreme version of the MINI Electric has been developed as the safety car in Formula E, so it's clearly not intended for use on public roads," said Bernd Körber, Head of MINI. "But it does reveal one of the directions we could take with the electrification of the JCW brand. For me, the message is clear: electrification and John Cooper Works are a good fit."
An ultra-lightweight interior
On the inside, MINI's one-off Cooper has been stripped back to the bare essentials, leaving only front seats, a racing harness and a minimalist carbon fiber control panel. Even the car's door handles have been replaced with lightweight cloth straps, while other elements of its interior have been removed completely to make way for a welded-in roll cage.
In other weight-saving measures, the Pacesetter's seating features 3D printed padding that manages to be comfortable, robust and modular at the same time. MINI has been able to achieve this by using additive manufacturing to customize the color and thickness of each individual pad, to meet the physiological and weight needs of the driver, as well as their individual taste.
Thanks to MINI's rigorous lightweighting efforts, the Pacesetter weighs just 1,230 kg, making it around 130 kg less heavy than the standard Cooper SE. The stripped-out safety car, which is capable of 0-60 km/h in just 3.6 seconds, has now been cleared for duty, and is ready to be piloted by experienced racer Bruno Correia for the first time at race three of the Formula E season in Rome on April 10th 2021.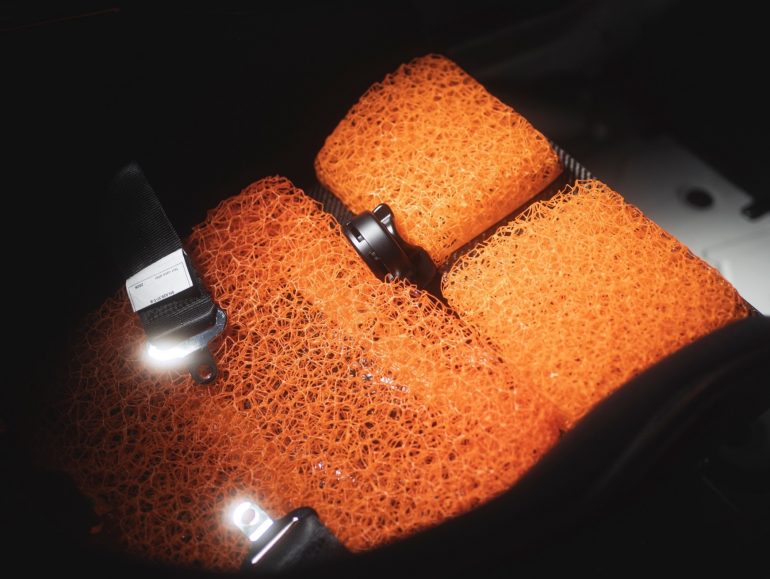 This isn't the first time that BMW has used 3D printing to customize the cars of its MINI subsidiary. Until January 2021, MINI owners were able to design and order various personalized parts thanks to Twikit's proprietary design software, but MINI scrapped the service with very little explanation earlier this year.
Elsewhere, BMW has invested heavily in 3D printing as a means of shortening lead times across its business, and opened a new €15 million additive manufacturing campus in Munich last year. The center is designed to centralize the firm's 3D printing resources, enabling it to concentrate its efforts on automating its design and production processes.
The company has also been building on its serialized automotive 3D printing capabilities for the last two years via the IDAM project. Working alongside eleven industry stakeholders, BMW is aiming to produce over 50,000 parts per year via two modular, partially-automated production lines in Bonn and Munich.