Leading beauty brand L'Oréal has adopted AMFG's Manufacturing Execution System (MES) software as a means of streamlining prototyping at its '3DLab' facility.
Using the program's digitized ordering system has enabled designers at L'Oréal's 3D printing complex in the French town of Clichy to simplify their internal part ordering process. By combining the platform's pricing, data visualization and automated ordering tools, the firm's engineers have been able to standardize and ultimately accelerate an otherwise lengthy, manual and inefficient production workflow.
"Integrating AMFG's software allows us to automate previously manual and time-consuming processes, like 3D part ordering," said Matthew Forrester, Additive Technical Manager at L'Oréal. "This, in turn, helps us to improve the efficiency of our 3DLabs, and ensures that our engineers and designers get prototypes in the fastest way possible."
"AMFG'S WORKFLOW MANAGEMENT SOLUTION ALLOWED US TO AUTOMATE PREVIOUSLY MANUAL STEPS, GAIN GREATER VISIBILITY AND BETTER COORDINATE OUR INTERNAL PROCESSES."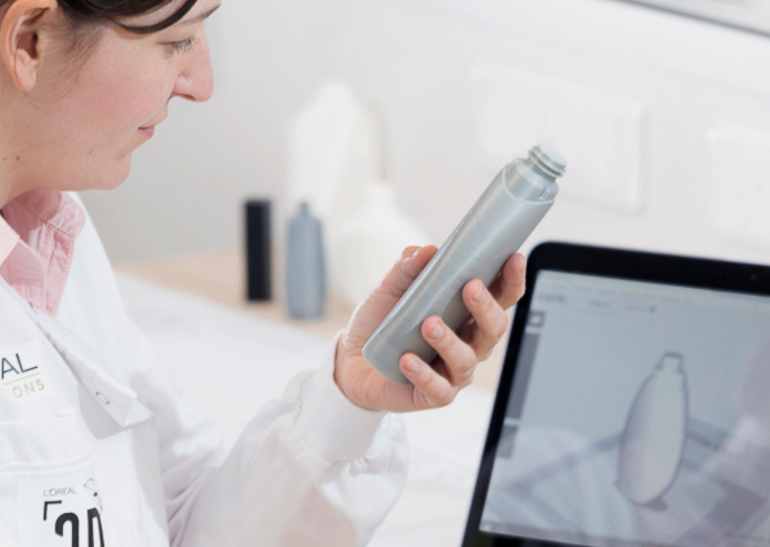 Automating L'Oréal prototyping
While L'Oréal uses 3D printing as a means of creating ergonomic tools, parts from new materials and enabling localized production, it primarily deploys the technology within product R&D. The company produces thousands of prototypes each year, but the process of ordering them has traditionally involved inefficient file-transfers, such as emailing design files or passing them on via USB sticks.
"The costing was fixed per part, which was sometimes dissuasive for smaller components," explained Forrester. "To accelerate time-to-market even further, we needed to eliminate duplication of effort and reduce low value-added activity. Without a leaner approach to managing our 3D printing workflow, there was no way for us to achieve this."
Having weighed-up the alternatives, L'Oréal opted to install AMFG's MES software due to its modularity and customization options, and found the program's web request portal to be particularly beneficial. The platform's personalized dashboard enables the firm's designers to easily reorder parts, track the status of orders online and natively upload files without needing to use an external conversion software.
Once orders have been placed, the software's backend system also allows the 3DLab's management to track them, while analyzing or repairing files and pricing parts. According to Forrester, the facility has been using the program for nearly a year, and noticed clear benefits in terms of automation, coordination and visibility.
"AMFG's MES software has simplified our 3D printing workflow and given our engineers and 3DLab managers access to powerful tools, which they didn't have before," said Forrester. "We can safely say that AMFG's solutions have enabled us to produce prototypes faster, taking our lab to the next level of productivity and efficiency."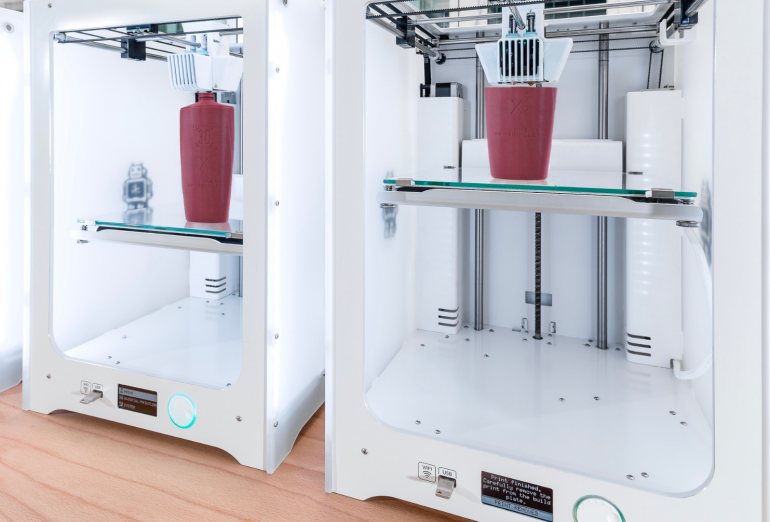 AMFG's MES software
Established in 2013 as RP Platform and rebranded as AMFG in 2018, the company aims to help manufacturers scale their production using its ML-driven MES software. The program, which was initially backed by Innovate UK, allows users to automate key elements of their production workflow including file conversion, quotation and build status monitoring. 
Since launching the software, AMFG has continued to provide it with new functionality via continued updates, adding an enhanced ordering feature before introducing a Holistic Build Analysis tool for weighing up part cost. The company has also worked closely with 3D printer manufacturer EOS, to bring greater streaming and connectivity to its machines. 
Effectively, the collaboration has enabled adopters of AMFG's MES software to exercise direct control and achieve end-to-end workflow automation when using EOS 3D printers. In a similar recent project, the U.K-based Digital Manufacturing Center (DMC) has opted to install the workflow automation program, as a means of overseeing its 3D printing operations. 
During production, the platform is expected to facilitate full process control and traceability of all parts manufactured at the soon-to-be-opened facility, while pinpointing any bottlenecks. As part of the firms' collaboration, the DMC has also agreed to become an AMFG consultant, a role that will see it contribute to the system's innovation roadmap. 
Harnessing AI-driven efficiency
AI-based quality control systems are becoming increasingly prevalent within the 3D printing industry as a means of driving greater manufacturing efficiency. Authentise offers its 'AMES' digitized workflow management system, which thanks to a recent partnership with Addiguru, now features in-situ monitoring functionality. 
UK-based software start-up Valuechain has also made recent upgrades to its DNA.am MES platform, by integrating PrintSyst's AI-Perfector engine. The program is now capable of setting a part's print parameters automatically on behalf of clients, based on the standards required of components for use in their target industry. 
Similarly, users of Markforged systems can benefit from the firm's proprietary cloud-based Digital Forge platform. Built on the company's Eiger print preparation software, the program's machine learning algorithms gather data from its broad user network, as a means of making each print more accurate than the last.