Sister technology companies GE Aviation and GE Additive have begun 3D printing four new gas turbine engine parts for the very first time.
Citing costs and time to market as primary factors in the decision, GE Aviation is making the switch from investment casting to metal additive manufacturing, despite already having a set of established casting molds for the bleed air adapter caps. The firm's engineering team says the move to cut manufacturing costs by around 35%.
Furthermore, the conversion process only took a total of 10 months from part identification to 3D printing the final prototypes. By comparison, traditionally cast aerospace parts usually take around 12 – 18 months to produce. The project team has also identified dozens of other engine components that could be transferred over to additive manufacturing to save costs.
Eric Gatlin, Additive Manufacturing Leader at GE Aviation, states, "This is a game-changer. It is the first time we did a part-for-part replacement, and it was cheaper doing it with additive than casting. To make sure we demonstrated cost competitiveness, we had four outside vendors quote the parts, and we still came in lower with additive manufacturing."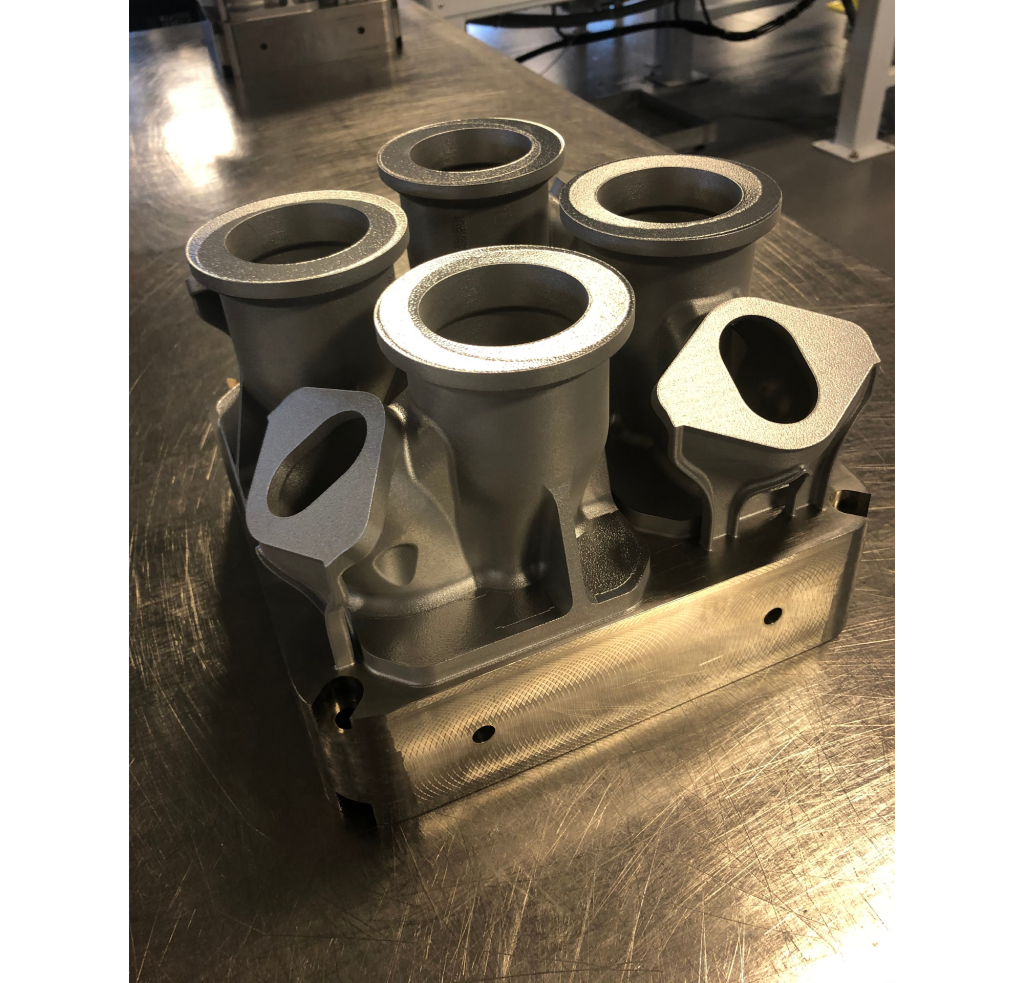 A path to cost-effectiveness with Concept Laser
The partners used GE Additive's Concept Laser M2 Series 5 3D printer for the project. The dual laser SLM machine features 1kW lasers and a large build volume measuring 245 x 350 x 350mm.
The CoCr adapter caps reportedly did not require any major redesigns, instead featuring a number of smaller tweaks to make them more suitable for 3D printing. Since the workflow was just a one-to-one mapping of existing parts, the team managed to achieve a rapid turnaround. All four components are set to be installed on an LM9000 land-marine turbine which the company is building for energy firm Baker Hughes.
Jeff Eschenbach, a senior project manager at GE's production facility in Auburn, adds, "The thing that stuck out to me was that we could take an existing casting design, replicate it quickly on our printers, and within weeks of starting on the project, the final parts were the same quality as to their cast counterparts. This project serves as a template for future work."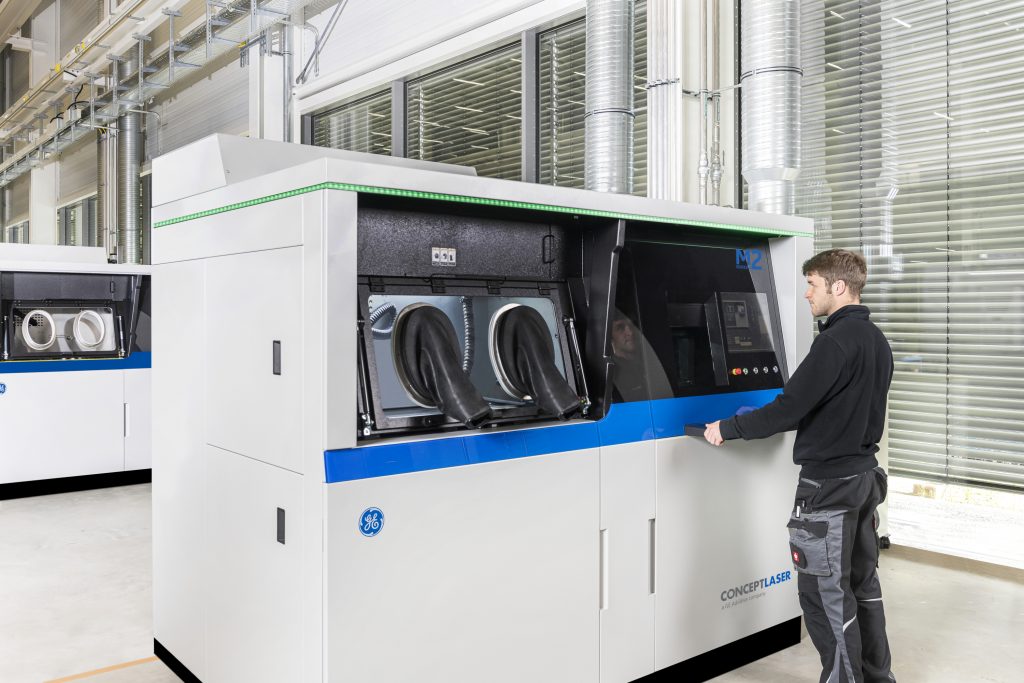 Additive manufacturing for spare part production
Manufacturers in aerospace are often faced with the problem of spare part sourcing, which can be difficult if the part in question is particularly old or obsolete. A vendor may discontinue the required material or decide the cost of producing a suitable mold is too high, leaving system OEMs to figure out another way of obtaining their parts. This is where 3D printing comes in.
How GE Aviation came to choose these four parts in particular started in 2020, when the company conducted its annual part audit. Gatlin explains, "We are always looking to pull costs out of existing products, so we cast a wide net that includes hundreds of castings we buy. Then we ask, 'Are we getting more competitive?', 'Are there things we couldn't do a year ago that are now technically feasible?'"
The initial vetting process considered a whole host of factors such as part size, post-processability, and even the past experiences of the engineers at the Auburn facility. Having initially identified 180 suitable cast parts, the GE project team calculated the ROI on printing each of the parts. They eventually settled on the final four bleed air adapter caps which turned out to be the most profitable – all while derisking the parts' supply chains for future spare part sourcing.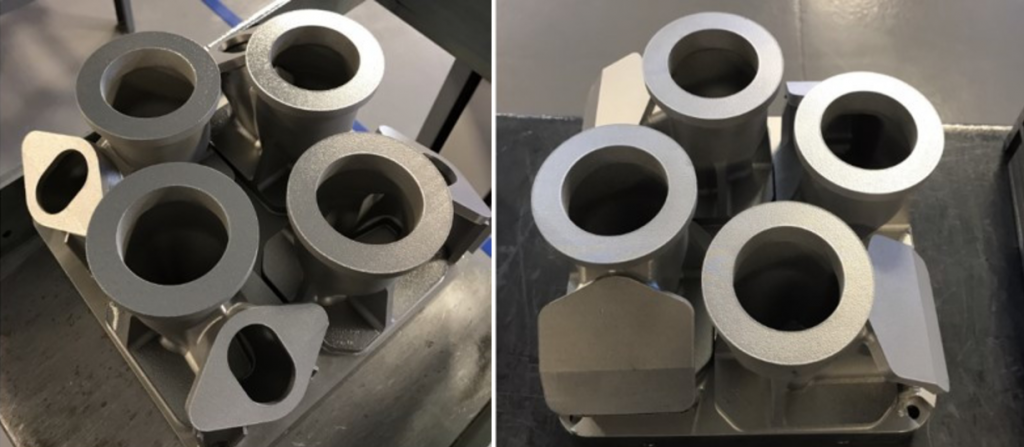 GE achieved cost savings of 35% by 3D printing the parts. Photos via GE.
It's not just aerospace, either, as many of the other heavy industrial sector supply chains are benefitting from on-demand 3D printing. Just last month, France's national railway company adopted 3D printing software developer 3YOURMIND's Agile PLM software. The organization will use the Digital Qualified Inventory platform to identify, evaluate, and store its additive manufacturing part data in a bid to cut costs and streamline on-demand spare part production.
Elsewhere, the Dutch Navy recently invested in a set of INTAMSYS 3D printers to improve its own on-demand spare part manufacturing capabilities. By housing high-performance 3D printers on board its frigate ships, the Navy hopes to be less dependent on its conventional supply chains and reduce operational downtimes.