Viennese designer Philipp Aduatz has worked with concrete 3D printing specialist incremental3d to create a collection of furniture with unique aesthetic qualities.
In an innovative approach, the architects extruded a mixture of colored dyes and concrete into a range of vibrantly-colored decor, including a chair, benches and a large vase. By applying the dyes directly from their 3D printer's nozzle, the team were not only able to create sturdy interior fittings with stylishly-tinted gradients, but to reduce the workload, waste and lead times associated with their production.
"I believe that the gradient is, in regards to the perception of the environment and its digital reflection, a fundamental design principle," explained Aduatz. "It has a mathematical aesthetic and precision that I have always admired. With this project I want to combine the design of the gradient with different functional objects by the use of innovative fabrication technologies."
"FOR MANY YEARS, I HAVE BEEN OBSESSED BY THE CONCEPT OF A GRADIENT WHICH REFLECTS ELEGANCE AND HARMONY TO ME."
A unique furnishing technique
Incremental3d was founded by Georg Grasser, Johannes Ladinig and Lukas Härtenberger in 2017, with the aim of commercializing a novel printing process that they developed together at the Austrian University of Innsbruck. Utilizing six-axis robotics, the engineers' technique enables the production of ultra-fine, detailed concrete structures, with an FFF-like level of precision and resolution.
Unlike many conventional concrete 3D printers, the engineers' system is also capable of creating freeform structures without the need for supports, potentially making it a potent new tool for designers. In order to test the full functionality of its technology, incremental3d has worked closely with Aduatz for the past three years, creating an array of large-format interior design elements along the way.
During Milan design week in 2018, the Austrian team exhibited a 3D printed chaise lounge sofa, before showcasing a suite of other prototypes at the RobArch Conference in Zürich later that year. Since then, the firm has continued to work with Aduatz to find new applications for its technology, conducting research that has now yielded a colorful array of new additions to their joint architectural portfolio.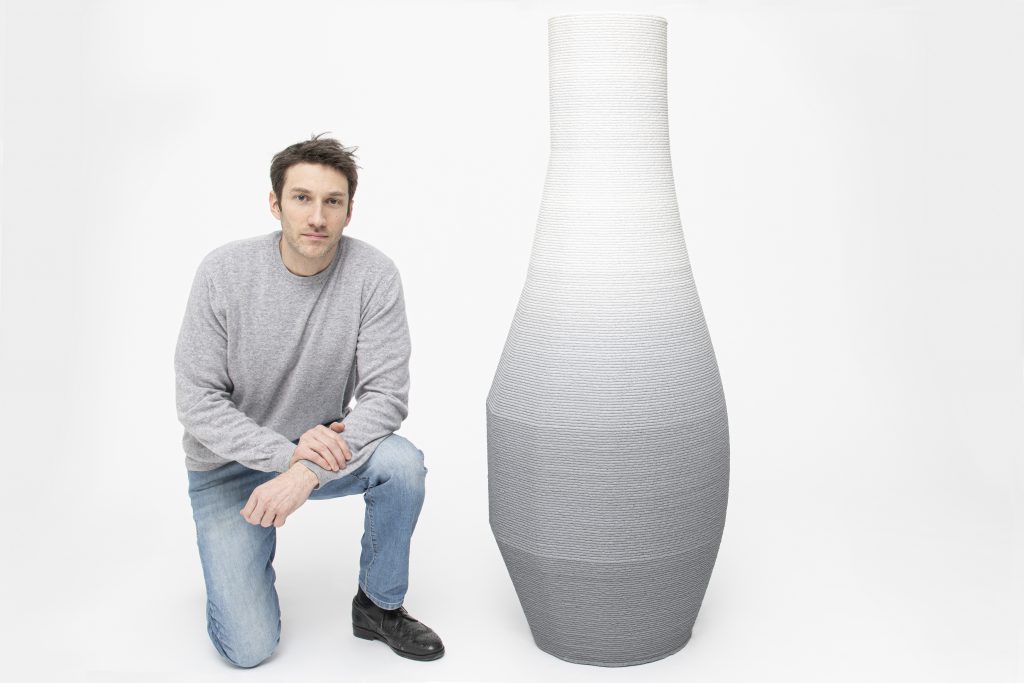 Vibrant 3D printed decor
Within their latest joint project, Aduatz and incremental3D have tweaked the firm's tried and tested process, to enable the production of softly-colored concrete structures. By adding dyes directly into their system's nozzles during printing, the designers were essentially able to deposit colors locally point-by-point rather than globally, yielding unique gradient designs.
However, given that concrete naturally has minimal tensile strength, the Austrian team had to develop a new reinforcement technology during R&D, to support the load of their collection. To accomplish this, the designers adopted a 'semi-automatic' building strategy, in which 3D printed concrete was seamlessly supplemented by steel, reinforcing the novel decor without ruining its lively aesthetic.
The newly-enhanced technique has ultimately yielded a range of limited edition furnishing products, including a fauteuil chair, gradient stool and benches up to 230 x 56 x 45 cm in size. Leveraging an advanced computer graphics technique called subdivision modelling, the designers were also able to create a large 60 x 60 x 152 cm gradient vase.
The technology essentially involves using a recursive algorithm to generate a polygonal mesh, which works as a functional limit and inner mesh to support the part's structure. As an added benefit, the software also enables the model's polygonal faces to be iteratively divided into smaller ones, turning the coarse mesh into an elegant, smooth and precisely-curved surface.
Each of the resulting product designs are being produced in limited edition batches, available in gradient red, blue, beige, green and black color tones. While up to fifty of the designers' stool, bench and vase designs will be manufactured, the larger format 108 x 95 x 102 cm fauteuil is set to be even rarer, with only eight in the works.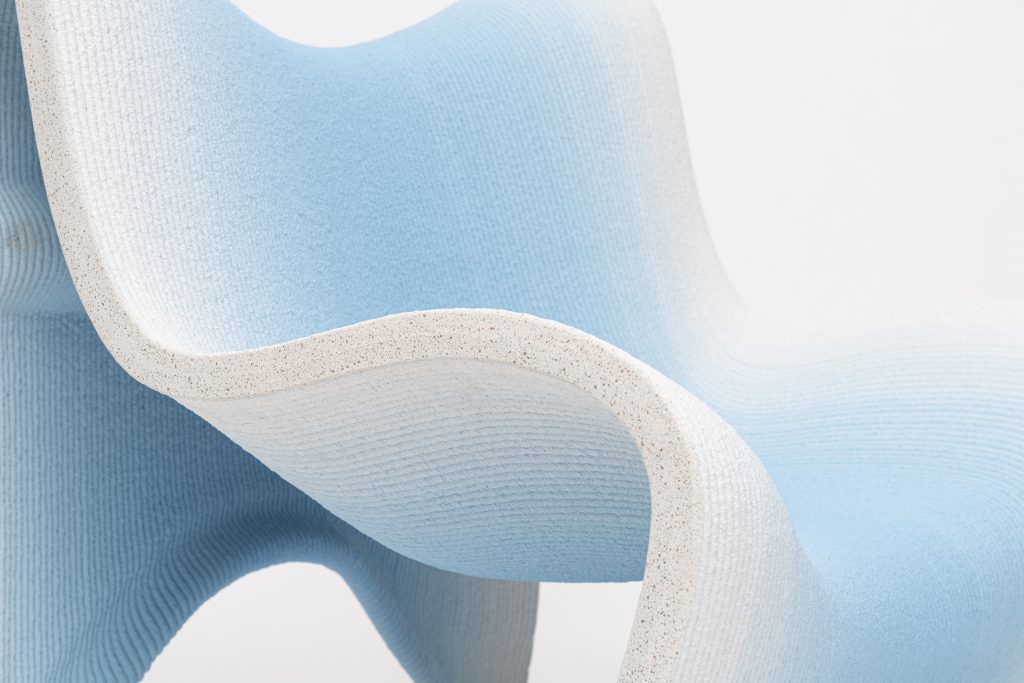 Interior design innovation
3D printing continues to find novel architectural and interior design applications, with projects often using vastly different materials to create furniture with unique properties. Researchers at TU Delft, for instance, have developed a TPE-based 3D printed chaise lounge that's capable of reversing its structure, and transforming into a bed on-demand.
Dutch design studio The New Raw, has taken a more sustainable approach to architecture, by enabling the production of 3D printed benches using recycled plastic waste. Developed as part of the wider Print Your City project, the firm's customization software allows everyday citizens to design their very own piece of urban furniture with high precision.
Similarly, scientists from the Massachusetts Institute of Technology (MIT) have developed lab-grown wood cells that could be utilized as a means of 3D printing eco-friendly furniture. The team hope that in future, their biomaterial can be deployed as a synthetic alternative to regular wood when producing household products, and help to ease the world's deforestation crisis.