Global 3D printing solutions provider 3D Systems has added a new production-grade resin to its material portfolio with the resiliency and functionality required to address the needs of its clients within multiple key markets.
Engineered to last for years in any environment, including indoor storage or in outdoor UV and humidity exposure, Figure 4 Rigid White yields durable, rigid parts in a clean white color with an injection molding-like finish. The material also possesses a 65°C heat deflection point, high elongation at break, and ISO biocompatible capability, lending it functional prototyping and end-use applications in the consumer goods, industrial, electronics, and medical industries.
According to Martin Johnson, 3D Systems' Technical Fellow and Director of Print Process, Figure 4 Rigid White has been fine-tuned to meet the company's stringent two-year outdoor testing criteria for production-grade materials. "If an engineer is going to use any material for true production applications, they need a comprehensive set of data which meets industry standards in order to evaluate its efficacy," said Johnson.
"3D Systems recognizes how these standards help improve product quality, enhance safety, facilitate market access and trade, and build consumer confidence," he added. "Testing to both ASTM and ISO standards allows us to address a broad set of manufacturers worldwide, and usher in the use of additive manufacturing for true production."
A highly versatile new resin
3D Systems' new Figure 4 Rigid White resin possesses the rigidity, heat resistance, and dissipative qualities needed to lend it applications within multiple different industries at once. For instance, the new material has been deemed biocompatible capable as per the ISO10993-5 and ISO10993-10 testing standards.
Elsewhere, 3D Systems' new resin is characterized by an elongation at break of 20% and flexural modulus of 2200 MPa, making it ideal for producing parts like housings, jigs, or fixtures. Such qualities also lend themselves to creating functional prototypes, thus the Figure 4 Rigid White has the flexibility to either be used within rough industrial environments or to fabricate representative end-use quality models.
Additionally, in terms of functional electrical-related characteristics, the new material has a tunable dielectric strength, dielectric constant, dissipation factor, and volume resistivity. As a result, Figure 4 Rigid White can safely be utilized to 3D print electronic enclosures or parts for use in the vicinity of electrical devices such as motor housings.
3D Systems' smooth operator
One of the main advantages to adopting the Figure 4 Rigid White lies in its smooth surface, which is of such a high standard that it requires minimal post-processing. Users, therefore, stand to benefit from an accelerated workflow, in addition to print speeds of up to 47 mm/hr at a layer thickness of 50 microns on the Figure 4, without needing to conduct secondary thermal curing.
To illustrate the throughput possible with the new resin, 3D Systems has processed it with the Figure 4 as part of a case study, producing 72 sets of electrical clips inside just 24 hours. The resulting devices featured snap-fit functionality, allowing them to trap and hold cables or cords efficiently, effectively demonstrating the flexibility of the Figure 4 Rigid White when used within electronic applications.
Whether deployed inside or outside, the material also displays excellent UV stability, as well as a high heat deflection temperature and UL94 resistance to flammability. All this combined makes the Figure 4 Rigid White ultra-resistant to light, chemical and heat exposure, and ultimately durable enough to survive being continually subjected to outdoor elements.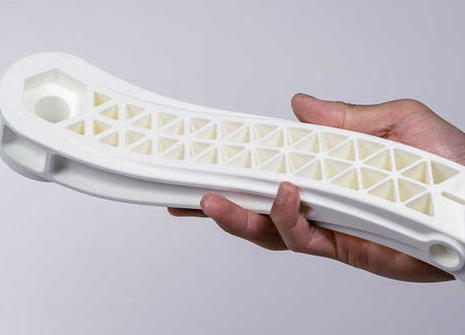 Putting the resin to work 
In addition to conducting its own evaluations, 3D Systems has worked closely with several commercial clients to test its latest resin within end-user scenarios. In one such case, product design firm Worxsimple introduced Rigid White into its manufacturing workflow and found that it comprehensively outperformed its existing range of materials.
"The strength and finish of parts printed in Figure 4 Rigid White are just what we needed," explained David Baker, President of Worxsimple. "It's the best opaque white AM material, and it works extremely well for producing smooth nests for medical device manufacturing equipment, and durable prototypes with high detail. We've even replaced other similar polymers in our operations with Figure 4 Rigid White."
Interestingly, engineering and manufacturing firm D&K Engineering deployed the material within different applications but managed to achieve similarly impressive results. "Figure 4 Rigid White has excellent dimensional accuracy, and mating parts fit well," explained Chris Nicoll, Proto Lab Manager at D&K Engineering.
"Our plastic molding experts are blown away by the quality, and agree that the parts it produces look and feel like molded parts, with long-term, production-grade properties," added Nicoll. "We've been waiting for these characteristics in a white AM resin, and are very happy to now have a solution with great accuracy, fast printing, and a smooth surface."
Technical specifications and pricing
Below are the technical specifications for the Figure 4 Rigid White 3D printing material. The resin is available to order now, with pricing and quotes available on request via the Figure 4 Rigid White materials page on the company's website.
Figure 4 Rigid White (Liquid)
| | |
| --- | --- |
| Specification |  Metric |
| Viscosity ( Brookfield Viscometer @ 25 °C (77 °F)) | 270 cps |
| Color | White |
| Liquid Density (Kruss K11 Force Tensiometer @ 25 °C (77 °F)) | 1.09 g/cm3 |
| Default Print Layer Thickness (Standard) | 50 µm |
| Speed – Standard Mode | 47 mm/hr |
| Speed – Draft Mode | 54 mm/hr |
Figure 4 Rigid White (Solid)
| | | | | |
| --- | --- | --- | --- | --- |
| Specification | ASTM Method | Metric | ISO Method | Metric |
| Shore Hardness (XY) | ASTM D2240 | 81D | ISO 7619 | 81D |
| Tensile Strength Ultimate (XY) | ASTM D638 | 57 MPa | ISO 527 -1/2 | 58MPa |
| Elongation at Break (XY) | ASTM D638 | 20% | ISO 527 -1/2 | 17.2% |
| Flexural Modulus (XY) | ASTM D790 | 2200 MPa | ISO 178 | 2600 MPa |
| CTE -20 to 50 °C | ASTM E831 | 82 ppm/°C |   ISO 11359-2 | 82 ppm/°K |
| CTE 75 to 180 °C | ASTM E831 | 146 ppm/°C | ISO 11359-2 | 146 ppm/°K |
| Dielectric Strength (kV/mm) @ 3.0 mm thickness | ASTM D149 | 15.1 | | |
| Dissipation Factor @ 1 MHz | ASTM D150 | 0.019 | | |
| UL Flammability (UL94) | UL94 | HB | | |